The potential of sport in addressing wider agendas such as health, economic, social inclusion, etc is widely recognised. Yet the sector is facing few challenges to unlock its potential and in particular in terms good governance and integrity and in terms of modernising its approach to sustain and increase the number of active participants.
In this context it becomes harder and harder to justify a contradictory situation facing women. Indeed even if the practice of physical and sports activities has tend to feminize in recent years , women and girls are still facing a glass ceiling experience as progress on women's access to leadership positions remains more limited.
Fact is the role of Board Members across Europe is at the heart of the functioning of organised sport. However, studies have shown that these positions still tend to be a male club only. An unbearable and unstainable situation especially when the sector is more and more questioned as regard aspects of good governance and integrity and entering a quest to modernise its approach to sustain and increase the number of active participants.
This worrying imbalanced situation is not new and has long been identified, with few concrete initiatives (ex of the WILD and SUCCESS projects) and political documents aiming at tackling it, but a lot remain to be done and we believe that any work to promote and improve gender equality in sport will be beneficial to all.
DO WE REALLY NEED MORE DIVERSITY IN THE BOARDROOM?
Well probably yes… if we are going to tackle some of the pressing threats to sport!
The organised sport sector as we know it in Europe is currently facing many challenges.
Not only does the sport sector has to face a growing and well documented epidemic of inactivity, new trends for practices patterns have arose which leaves the organised sport in front of one of its biggets challenges for the 21st century. To survive the sector has to evolve and it must do it fast.
In addition to these challenges related to the practictionner/playmaker profile, the sector is also facing a challenge related to the "deliverers" and "sport makers". Yes we are thinking of those at the heart of the European sport setcior, the volunteers! Figures might be misleading when exploring this challenge. Indeed the % of EU citizens volunteering has remained stable for years. However the challenge that is not told by these figures is that the type of volunteer involvment is changing. Even if there are still a lot of sport volunteers, they are rather doing it on event based rather than on long term commitment. But the sport sector do need long term volunteers in decison and change making position to be found in the boardroom!
What if a women were the missing playmaker and gamechanger?!?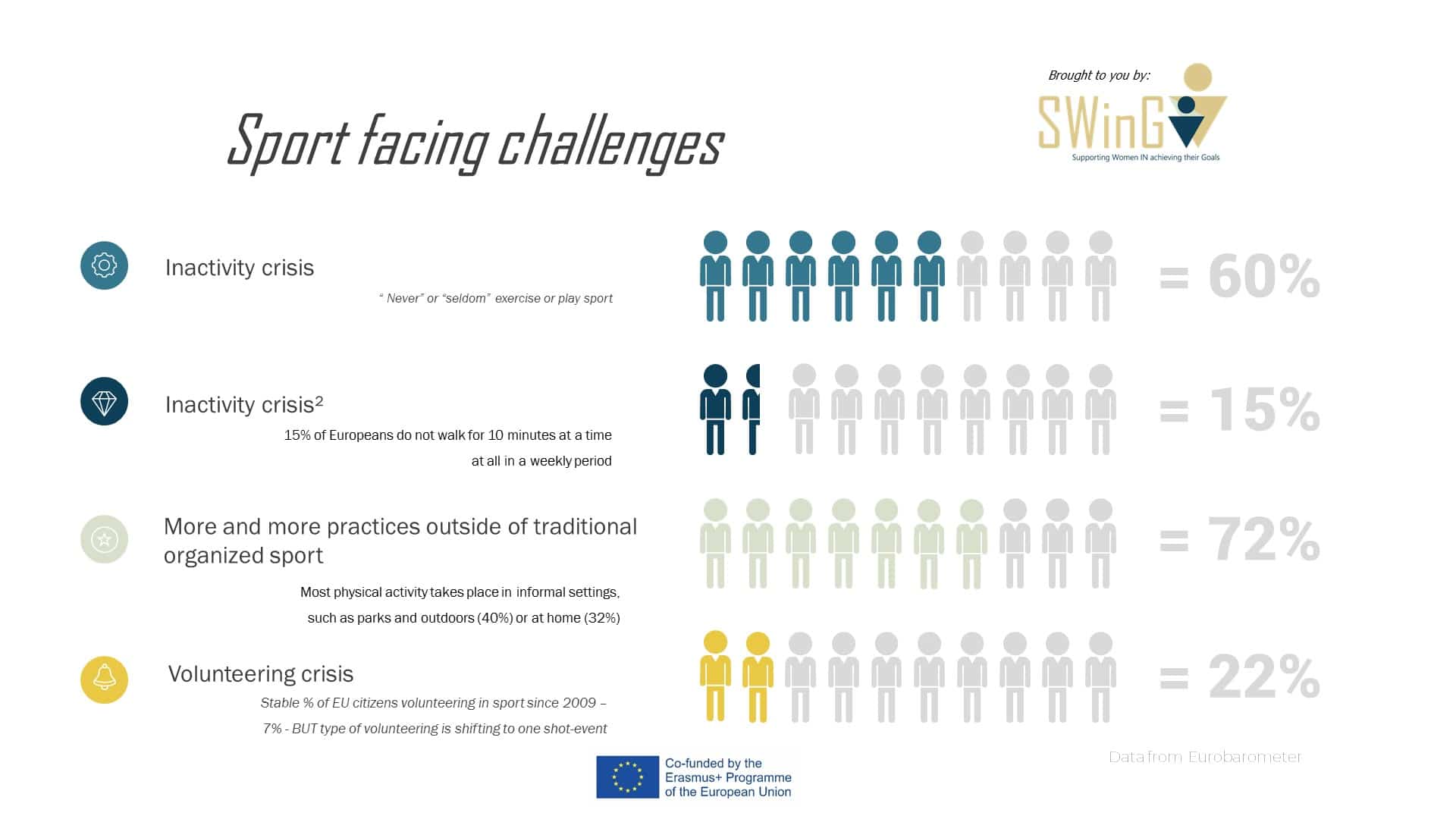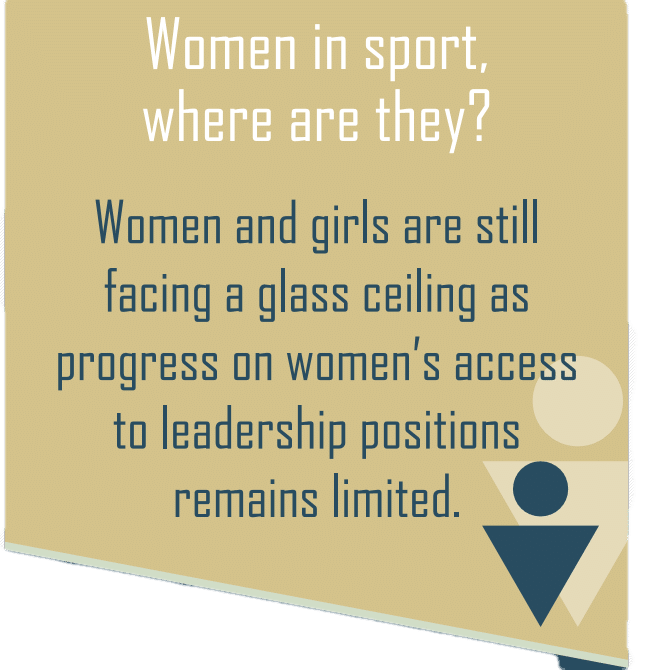 The Gender Gap and Glass ceiling is not a myth!
Have you ever wonder "where are the women in sport" or thought "I cannot believe there are so few women interested in sport and skilled to lead"?
Evidence consistently and emphatically points to the fact that men are represented on sport organization boards more often, and can be found even in organizations and boards which are concerned with women's sport. The reverse is less true, and women are less common on boards concerned with men's sport (Yiamouyiannis and Osborne, 2012).
Currently under-representation of women is found at all levels and in all sports organisations.
Picturing the reality of women in decision making position in sport: what the studies are telling us?
Evidence consistently and emphatically points to the fact that men are represented on sport organization boards more often, and can be found even in organizations and boards which are concerned with women's sport. The reverse is less true, and women are less common on boards concerned with men's sport (Yiamouyiannis and Osborne, 2012).
Only the Cook Islands had achieved gender parity. And only 4 of 45 countries achieved more than 30% of their boards being women  (Adriaanse, 2016).
Figures below -showing the % of women in key decision making role- tend to picture sport governing bodies as an "Old white men club".
Members of sports organizational boards (Adriaanse, 2016)
19%
Executive Board Members at IOC (Figures from 2018)
31%
President in National Olympic Commitees (13 out of 2016 - figures from 2018)
6%
Norwegian Sport Boards (Adriaanse, 2016)
39%
Board Members of the UK Governing bodies -NGBs (Figures from 2016)
30%
President in Recognised International Federations (2 out of 33 - Figures from 2018)
6%
What's more, only 22 of 45 countries included in the study had women's representation more than 20%. In the Norwegian context, which is one of the most gender equal sports governance contexts in the World, women's representation has shifted from 8% to 39% over a period of 37 years (Skirstad, 2009), rising only 3% since 2009 (Adriaanse, 2016). Very few other countries have seen even this level of change towards gender parity
As for senior management positions with key decision-making roles, the figures are not better: 19.7% of board directors, 10.8% of chairs and 16.3% of board executives were women (Adriaanse, 2016).
Very few countries had therefore achieved a 'critical mass' of 30% female representation on boards, and no continent had achieved this proportion of female representation in the three key roles of director, chair or executives!!!
Picturing the reality of women in decision making position in sport: what is to be taken into account from the SWinG Desk research?
Between March and May 2019, SWinG partners and their affiliates provided and collected data concerning gender representation on the boards of their 'apex' sports organisations, and the 'apex boards' of a selection of the boards of their affiliates and partners. Data were collected in their original language and translated from multiple sources.
Information was collected from a total of 31 organisations from a total of 18 countries. The Figures below -showing the % of women in various roles.
Board Members (SWinG Research, May 2019)
26%
No significant differences exist in the numbers of women appointed to apex boards between organizations at the International, National and Local levels, with significant heterogeneity at each level.
Executive Board Members (SWinG Research, May 2019)
19%
Around half of all organizations surveyed have zero women in decision-making positions!
Fact is based on the current pace, there is a higher chance than global warming will destroy our planet before the gender gap being closed globally.
Yet we believe that by closing the gender gap in decision making positions, the sport sector will reap many benefits.
WHAT ARE THE BENEFIT OF BRINGING IN MORE WOMEN IN DECISION MAKING POSITIONS?
Answering some of the leaderships skills gap
Interviewees from the SWinG Desk Research survey recognized that 21st century leadership must not be based solely on behavioural skills (e. g. agility, empathy, emotional intelligence), which are rather perceived as so-called female qualities. They must also have cognitive skills (e.g., problem solving, critical thinking), which are perceived as so-called masculine qualities.
According to John P. Kotter (Leading Change, 2012), the characteristics of a leader are the followings:
Higher than average energy;
Personal ambition and desire to make things happen;
Intellectual capacity to manage quantity of information;
Well-balanced mentally and emotionally;
Personal integrity and clear personal values.
According to Jim Collins (Good to Great, 2001), a leader (woman or man) has the following qualities:
Managing ambiguity (patience, perseverance, determination, influence techniques, alliances)
Having personal humility (self-consciousness, social awareness, empathy), fierce professional resolve (physical & mental strength)
Being a mentor (nurturing the seeds of potential through relevant experiences)
These characteristics are neither men nor women owned from our perspective! Rather than talking about female or male leadership, we can use the term mixed leadership.
The leader of tomorrow, whether a man or a woman, must owned and know how and when to use mixed skills.

Women belongs to the table!
In 2003, the European Commission already pointed out that 57% of companies identified women as "an essential source of skills". Women represent new and under-exploited talents, bringing a new breath of fresh air, a new vision. Today, gender diversity allows the fusion of the masculine and feminine and makes the individual stronger and the organization more agile.
The financial performance of gender diversity is well demonstrated through various studies. However, it should be remembered that it is not the arrival of women that creates the performance, but the arrival of gender balance. That is to say, the mixture of the confrontation of ideas and life stories (Falcoz, 2017).
SO WHAT DO WE DO – WHAT ARE THE BARRIERS THAT SHOULD BE REMOVED?
The pitfall of sport governance to advance women access
While there are obvisously some internal barriers women can work on, the context and environment, ie the whole sport culture, would benefit from a shift of paradigm.
Pitfall n°1 = It can be perceived as challenging to be a good female leader today
You must be well "equipped" to succeed: "women often have to climb a glass mountain with solid mountaineering shoes" (petit, saint-michel, 2016). Indeed, if the woman displays her female codes, this may be perceived as "lack of authority" and if she takes male codes, it may be perceived as "too aggressive".
Pitfall n°2 = The misuse/misunderstading of quotas
One possible reason for the inconsistent implementation of quotas, and varied impact they have had may be due to a common confusion between (mandatory) quotas and (voluntary) targets. One consequence of this confusion is that quotas can be seen as maximum number, rather than a foundation from which to build (Rich et al., 2004, Adriaanse and Schofield, 2014, Caprais and Delorme, 2019). What's is clear, however, is that quotas are not sufficient to ensure gender equality when implemented alone and without supporting policies, legislation and affirmative action (Adriaanse and Schofield, 2014).
Pitfall n°3 : The Election procedure
Election procedures can be less than democratic, and heavily reliant upon personal networks and informal selection procedures. These can include the employment of multiple 'stages' of vetting and shortlisting before an 'actual' election is conducted in order to shape candidate shortlists, which are in turn shaped by local laws such as quotas, and by the patronage (or absence of support) from existing members, particularly the president. Such processes can favour the appointment of insiders to sports organisations, and which, due to gender inequality at down the chain of governance, can mean a reproduction of gendered inequality.
Pitfall n°4 : The requirements
Aside from the possibility of opaque election procedures, the extent of potential change was evidently limited severely in our SWinG sample Desk Research by other requirements that members of the apex board should typically be:
An existing member, president or member of the sports associations, clubs or boards in the organization (e.g. ICC, E. Netball or FIH)
Are nominated or supported by an existing board member (e.g. EFCS, ENGSO Youth), or
Votes are cast by a limited number of individuals, typically the representatives of member organizations (e.g. LHF or FIC), member sports federations (e.g. FIFA, CONI and DBSV) or other boards of representatives (e.g. DBU) or politicians ((e.g. TD).
We need more #GameChangeHer
. Indeed, the sport industry cannot deprive itself of female talent: "Competency does not have sex".
The "waste of talent" needs to stop because this is powerful to share different experiences, skills and perspectives.
The time is now for sport to become a positive mirror of – and contributor to- society!
WANT TO BECOME A CHAMPION FOR DIVERSITY IN THE BOARDROOM?
Help us and share this page!