Let us introduce you to Alexandra Sokolova
Alexandra grew up in Moscow, Russia. She has otherwise had a very international education and life making her the insightful and open-minded person she is.
She is currently studying for her Masters degree in Sport Ethics and Integrity (MAiSI) that makes her one of a few professionals equipped for ethical governance and integrity management. Alexandra has 13 years' experience in the sport sector as an athlete and a professional.
Alexandra is passionate about fighting for the ethical practice of sport and, via her studies, is equipping herself to change trends within sport. Her aim is to give people the opportunity to play fair, compete clean and promote human dignity. She is currently working on a project dedicated to good governance in the anti-doping sector.
Alexandra's father was himself a semi-professional football player, and her mother a career-woman and important role model for Alexandra growing up. Alexandra has in turn demonstrated the strength that comes with being ambitious, fearless and career focused that inspired her to go beyond what her home country had to offer. So far, she has lived in 6 different countries across the globe. She has received numerous international scholarships and awards that recognize her potential.
Growing up, Alexandra initially practiced sport for health reasons, but moved from speed skating to athletics in order to build a path that allowed her to pursue her education and sport simultaneously. Alexandra went through the NCAA system and competed for Lamar University Cardinals (USA) in cross country and 800m where she set multiple school records. Apart from athletic success, she learned the importance of team spirit that makes an individual sport like athletics a true team effort – the motto she translates into her work.
Alexandra Sokolova is undoubtedly smart and driven and has harnessed the opportunity of sport to open doors rather than direct her life. Through SWinG, Alexandra has set out to develop her leadership and decision-making skills. She is readying herself to help combat some of the most serious challenges facing international sport today.
For SWinG, Alexandra is being mentored by Sophie Carole René Worms, from Cabinet René Worms, France.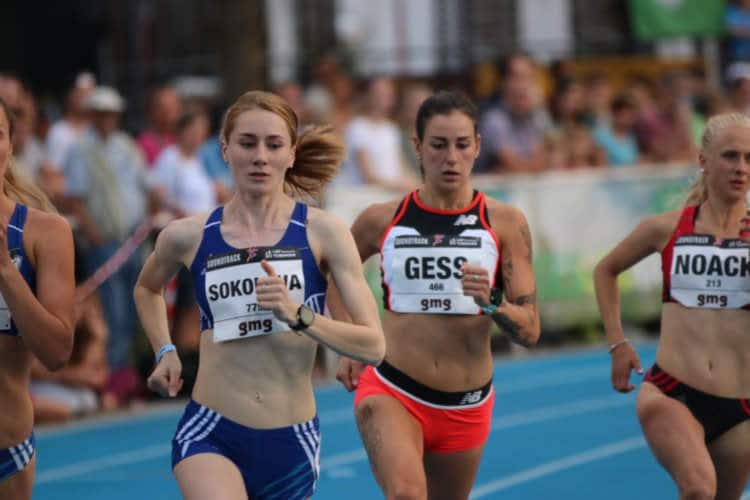 Alexandra competing in the 800m at the Tübingen Soundtrack 2018 European Athletics Meeting