Let us introduce you to Alessia Cillenti
Alessia is from Italy, but currently lives, works and studies in Germany. She holds a degree in Italian Law and a Masters in International Management. She is currently undertaking further studies in accounting, leadership and Strategic Marketing. This reflects her proactive pursuit of opportunities for growth, whether that's for personal development or that of her community.
The inequalities facing women today remain significant in Italy, and they still seek the respect, opportunity and safety that men enjoy in society. However, Alessia can see that women are challenging the status quo. She herself found a role model in a relative who challenged norms and travelled abroad to pursue her ambitions in a male dominated sector when they wouldn't be accepted at home.
Alessia Cillenti has been a volunteer in sports over the past 15 years. She is passionate about advocating for access and participation in sport across the wider society. She has experienced first hand the potential impact of sport for people in their daily lives, to manage mental and emotional wellbeing and as an opportunity to further build relationships and integrate onself into society. Alessia has, in turn, started supporting migrants who originally came to the country to work to find a sense of belonging through sport.
Through the SWinG programme she is looking for open minded and strategic mentorship to improve her skills in leadership and resilience. Alessia is determined and set to change things around her to further implement the power of sport for those who are at risk of exclusion or of mental health issues.
For SWinG, Alessia is being mentored by Arantxa De la Peña from Amplifon Group , Spain.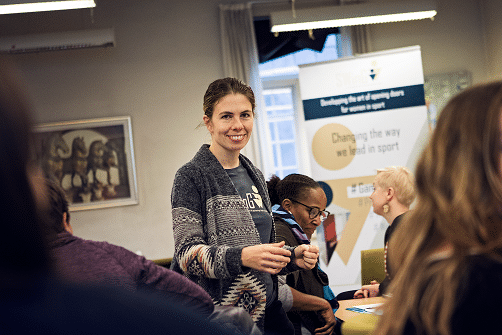 Alessia at the SWinG mentees session in November 2019 [Photo: Emil Lyders for @SWinG]
"Celebrate the differences."