WLI – Women Leadership and Inclusion by Janseen is an Employee Resource Group (ERG), created in the US in 1996.
WLI is therefore not strictly a programme but an Employee Resource Group, lead by volunteers who take this in charge on top of their current jobs in support of the vision and mission of the Johnson & Johnson Office of Global Diversity and Inclusion.
Brief outline of the initiative
The WLI – Women Leadership and Inclusion by Janseen programme has aimed since 1996 to focus on shared interests and experiences and seeks to apply these perspectives to initiatives that create value for the company.
WLI offers support, networking and opportunities for personal and professional enrichment, such as mentoring, training, speaking and assertiveness coaching, career development and cultural awareness activities. It also enables the setting up and piloting of a diversity observatory in the company.
VISION for WLI
Achieve gender equality across our businesses globally to enhance our competitive advantage and fuel the future of human health
PURPOSE of WLI 
Foster an inclusive organizational environment that champions the advancement of women through:
Inspirational conferences (role modelling)
Networking together
Practical workshops to develop skills
Mentoring (last mentoring wave there had been 20 "pairs" together for 6 months)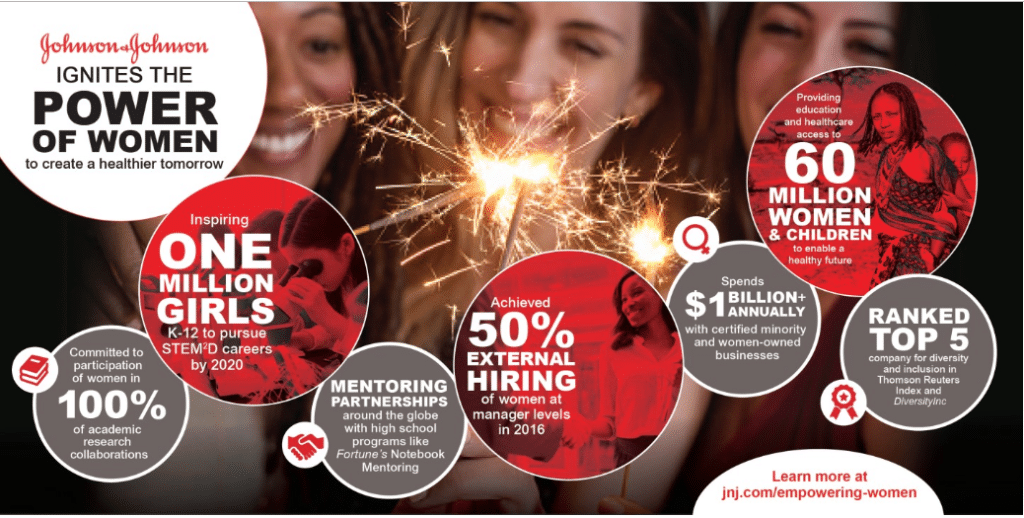 Duration
Depends on the chosen format
Funding
No official budget allocated. In France, all the actions where launched through the operational communication and public affairs budget
Budget
Overall: 35 000 / year
Country of origin
US originally but now in 60 countries, including a very active French chapter
Country/Region of implementation
60 countries
Number of participants
80 participants / year for the French programme
Core objective of the Programme
☒ Women empowerment (identifying barriers and working on strengths, creating a community)
☐ Supporting organizational change (strategy for developing diversity, implementation of specific policies, support to change makers)
☒ Allies buy-in and support (mentors, men championing)
☐ External Scrutiny (Pledge board, Indicators, celebration of success…)
☐ Other => Please specify:
Actions implemented
☐ Internal Diversity & Inclusion Strategy for a safe workplace with equal rights (please specify)
☒ Commitment of men - please specify: We want men to feel included in WLI ; this is not a program for women but for the company
☒ Personal development training - please specify: workshops on personal branding, personal narrative, oral speech
☒ Role model highlighted: inspirational conferences with women coming from other horizons
☒ Networking (women network, men network or mixed)
☒ Mentoring (experienced & wise guide) : a specific pillar of WLI strategy with a 6 month mentoring program
☐ Coaching (ability to inspire and grow people/Foster emulation/ Being influential)
☒ Events (sharing with other companies) - please specify: meet the author (when an interesting book is published), discussion with other networks (like HBA or Financi'Elles)
☐ Other - please specify:
Format
☐ Online e-learning Module
☐ Online seminar
☒ Workshops
☒ Conference
☐ Self-Assessment tool
☐ Consolidated educational/training programme
☐ Other, please specify:
Identified Key Success Factors
Commitment and support from the Executive Committee
Transferable bites/elements
- Design and implement the initiative as a tool for the organsiation (rather than for a specific target group)
"Women need to develop their leadership"

Emmanuelle Quiles

Chief Executive Officer - Janssen Europe, Middle East & Africa (EMEA)
"Thanks to this mentoring programme, I realized I was learning also a lot of things about myself, even as a mentor."

Valerie Perruchot Garcia

Director of Public Affairs - Janssen Europe, Middle East & Africa (EMEA)
Organisation's strategy to adress Women Empowerment
Besides WLI – Women Leadership and Inclusion by Janseen, the company is also aiming at achieving gender equality through specific initiatives and target.
For exemple in France
Management team : 60% Women
External events : Forum « Femmes et Santé », Elle Active, Women's Forum
Internal event : « International Women's Day » (conferences ("le leadership au féminin"), workshops ("speed-coaching (self-marketing, colorimetry)),