Let us introduce you to Noémi Horváth
Noémi graduated in sports management and international sports diplomacy. She now manages projects for the György Kolonics Foundation in Hungary. As well as developing her professional path in sports management, she already has a long career in professional sport behind her.
Noémi has been kayaking since the age of eight and competed internationally – winning gold twice at the European championships. Although her time and focus has moved towards new specialities, Noémi continues to enjoy her sport… Kayaking on the Danube, as well as taking on stand-up paddle and other sports.
At 25 she already has clear goals and aspirations for the future of sport and her role in that development. There are currently very few women in decision making roles around her, but she is ready to break the barriers and change this trend. Noémi finds inspiration in the people and opportunities close to her.
Noémi Horváth will offer fresh perspectives to sport in her country where women's perspectives in general are often missing, but where she is set to be an important contributor.
Noémi aspires to represent athletes and sport at an international level. With the support of her mentor and the SWinG programme, she intends to develop her leadership and decision-making skills.
For SWinG, Noémie is being mentored by Inez Cooper from Riefield Consulting, Ireland.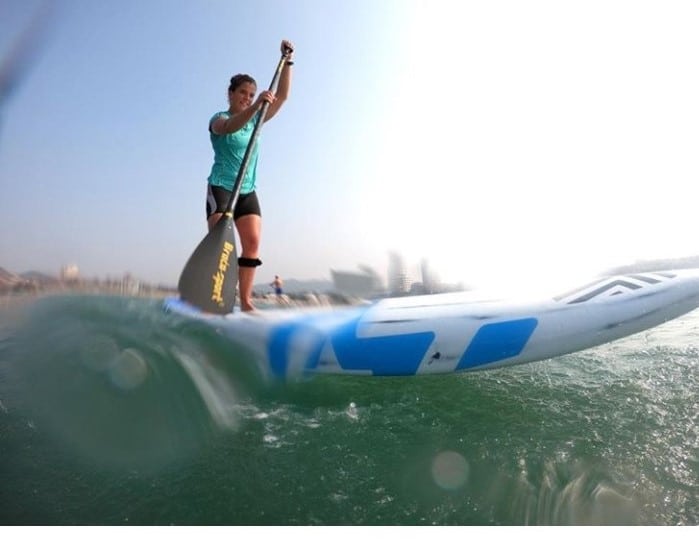 Photo taken in China just days before the Stand Up Paddling World Championships in 2019. This was Noemi's first time paddling on the ocean – this photo reminds her why she loves being outside and how lucky Ishe is to be able to do this.
"Anyone, anywhere can make a positive difference "
Mark Sanborn, author, professional speaker, and entrepreneur.